For many people, the backyard has become a focal point for entertaining. As a result, most of our projects go way beyond "just a swimming pool." Consider how much more fun your home will be with some of these options:
---
Outdoor Kitchens and BBQ Grills
Nothing completes your outdoor area like the ability to cook without running in and out of the house all the time. We suggest you devote an area of your new outdoor living space to culinary endeavors, based on the number of people you plan to entertain.
Click here to view the gallery
Fireplaces & Firepits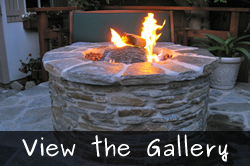 An outdoor fireplace or firepit can be a great addition to an outdoor living space. It can be a focal point to formalize your outdoor living room. And everyone knows that gathering around the campfire is a great way to entertain and interact with friends and family.
There are limitless possibilities for firepit and fireplace designs and materials, so take a look at some of these examples for some ideas. Whatever you can envision, we can build.
Click here to view the gallery
Hardscape, Patios & Landscape
A new deck or patio can add a wonderful space for family gatherings, or for gaining access to a beautiful view and if the entryway to your home is artfully designed and properly installed, it can improve your attitude the minute you come home. Wouldn't that be a nice treat to enjoy for the rest of your life?
Click here to view the gallery
Arbors, Pergolas & Pool Houses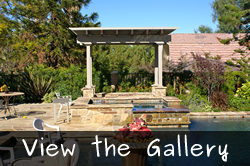 Would you like a little shade in your backyard area? An arbor or pergola can create a wonderful living area that stays cool and breezy, while still letting in plenty of light and fresh air. (And with the right landscaping touch, it can become a natural "green" arbor.)
On the other hand, maybe you'd like an outdoor living area that you can use any time, regardless of the weather. If so, a cabaña may be right for you.
Click here to view the gallery
Outdoor Lighting
Outdoor lighting will have a dramatic impact on the look and beauty of your home. It can make an average area look like a work of art, and bring a sense of warmth and intimacy to any space. It can also let you "recover" space that would be lost to the nighttime darkness.
Keep in mind that outdoor lighting doesn't have to be expensive. It just has to look good. Call us to discuss your outdoor lighting options. 310.454.4385 for LA Westside/Valleys or 310.544.9384 for South Bay/Long Beach/Orange County.